Skip to product information
Description
The Berkley Barrister Bookcase is a timeless and elegant storage solution. Crafted with meticulous attention to detail, it showcases your book collection with style and sophistication. With its sturdy construction and multiple compartments, it offers practicality and charm for any home or office space.
40_" w x 16 5/8" d x 66_" h overall
Comes standard with regular glass
Options
Bevel glass & options of leaded glass available

2, 3, 4, 5 Door Options
Regular price
$1,038.00
Sale price
$836.00
Unit price
per
Sale
Sold out
You will be charged a deposit today for the total cart amount, the remaining balance will be charged at delivery time. Shipping costs will be added during the checkout process.
Expected release date: 140
View full details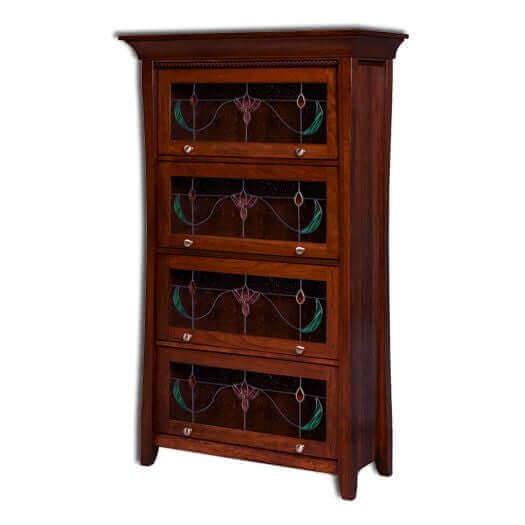 Beautiful bookcase - a bit of an issue with set up
This is an absolutely gorgeous bookshelf that I will treasure forever. My only issue was that when it was delivered, the beveled glass piece was not fitting securely into place for the delivery person, and he kept having to try to secure it in again and again, but it wasn't working. He managed to get it in, but I have serious concerns that what he did to get it to stay was a cosmetic fix meant to solve the problem temporarily. I worry that the glass again will pop out from the wood, and this time, I will have to handle it on my own, with no real way of making it secure-- or worse, that it will come out and then fall or break when I am opening the door. I pretty much avoid opening that top window/door for this reason. There is this foam that is supposed to fit snuggly around the glass to keep it in place in the frame, but it just doesn't stay securely. So far, it's all good, but I just hope that glass stays in place securely. It's definitely my favorite piece of furniture.